Welcome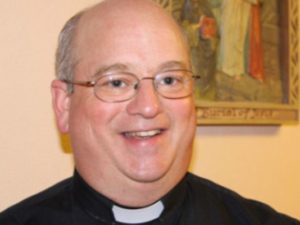 As Pastor I would like to welcome you and invite you to find a way to be "at home" at St. Willys. We have a diverse membership. We admit that being one community of faith is not easy. Members of our community make an investment and work to build up that one community of faith which has multiple languages, traditions, cultural perspectives, and much talent.
We do not deny our differences. We admit them. We recognize them. And then, we celebrate these differences even as we rejoice in the power and love of God who unites us all despite those differences. As such, at St. Willebrord Parish we hope you find that you are being welcomed into the united community of faith.
St. Willebrord, or "St. Willys," as she is affectionately known, serves her members and anyone who has need of her services. Our parish motto is "Open Doors, Open Hearts." It is an attitude of welcome which we try to foster, as well as an invitation to those who may have experienced the opposite.
We hope to foster community not only with parish members but also with the homeless, the hungry, the poor, and the needy. Whether one needs a sandwich and a coffee, or reconciliation and peace, we try to live the Gospel in such a way that everyone who comes here may say that the community is hospitable.
As Pastor of the parish it is my privilege to minister here at one of the oldest parish communities in the Diocese of Green Bay. St. Willebrord Parish was founded primarily by Dutch immigrants in 1864. As the parish grew and time passed she welcomed members from the Belgian, German, Irish, Polish, Scandinavian, and other European communities. Finally, since 1990, she has welcomed Hispanics from Mexico, Colombia, Venezuela, Puerto Rico, Nicaragua, Honduras, El Salvador, Guatemala, Dominican Republic, Perú, and elsewhere.
If our relatively small community of faith, in the midst of a much larger church and world community, can be an example of unity and a catalyst for community-building, then we are accomplishing one of our primary goals. The Good News of Jesus Christ, and the Sacrament of the Eucharist are at the center of our life of faith and are our inspiration. That Good News also pushes us forward and pulls us onward toward life in God, a life of unity and peace.

Help us to make the Catholic Community of faith at St. Willebrord Parish a rich, diverse, and Christ-centered community.